I recently stumbled upon a cool app which lets me look up meanings using my iPhone's camera by pointing to a specific word. It's called Graspp.
Today, I'll tell you all about this app and how I find it to be useful.
Let's start with:
How Graspp works
Using Graspp is simple. Just open up the app on your iPhone, and point at some text.
While your phone's camera points towards some text, you can keep your finger on a word, and Graspp will show you the meaning of that specific word.
Have a look at this demo:
See how easy it is to look up for meanings while reading a book or some other physical writing.
But:
As you can see from the video, it works about 90% of the time. Sometimes, Graspp has a hard time understanding the word you're referring.
However, you can always try again, and Graspp might pick it up the next time.
There are some caveats, though:
In my experiments, Graspp never identified big, bold fonts like the book name in the video.
Here's another example: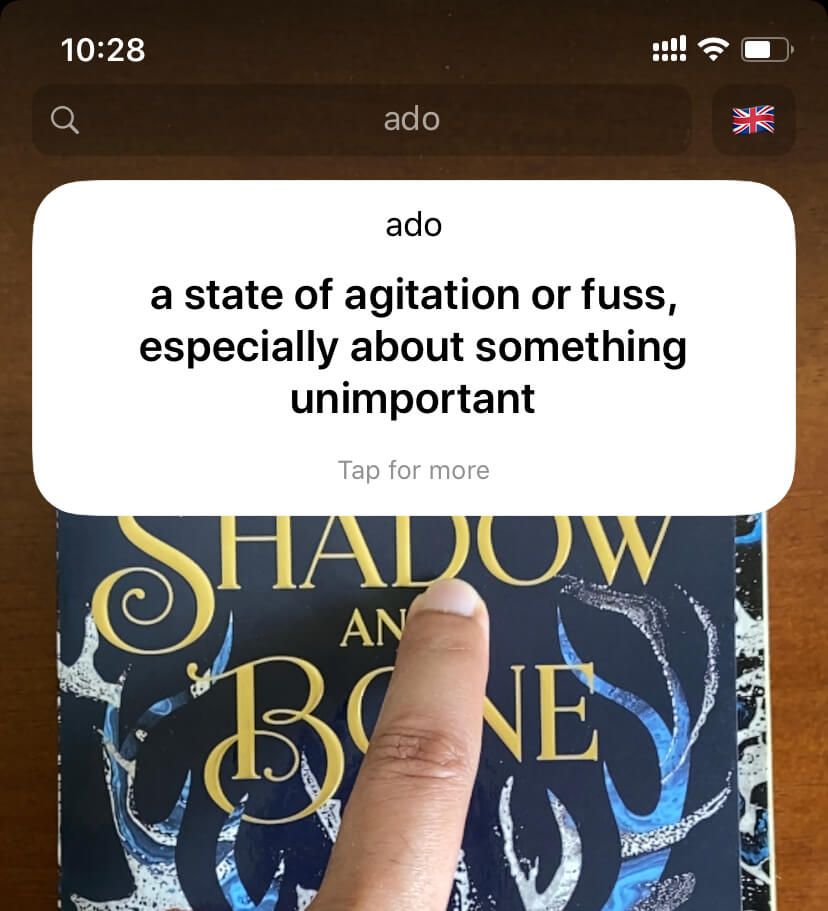 But, that's not a deal-breaker for me, because:
It's easier to point than to type on an iPhone
I'm not a native English speaker. Although I'm fluent in English, I need to look up meanings quite often.
Mostly, when I'm reading fiction books filled with ornamental words.
With Graspp, I can open up the app, and point to a specific word, and find out the meaning.
Also, on tapping the definition card that appears, I can get a more in-depth insight into the word, and how to pronounce, etc.
Pretty handy, right?
Not only that:
Whatever I look up for, gets automatically added to my search history. From there, I can mark some words as favourites, and revisit them later on, like this: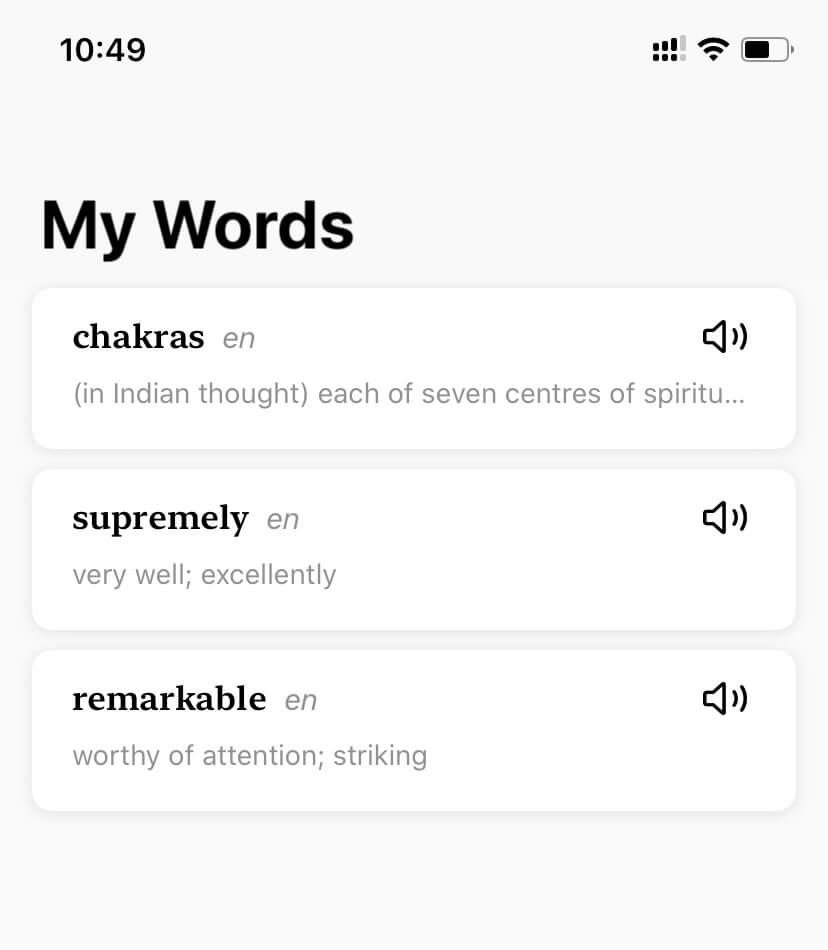 On top of this:
Graspp can also translate words
Apart from looking up meanings, Graspp is also a translation app.
To put it into translation mode, you need to choose your language settings from English to a different language, like this: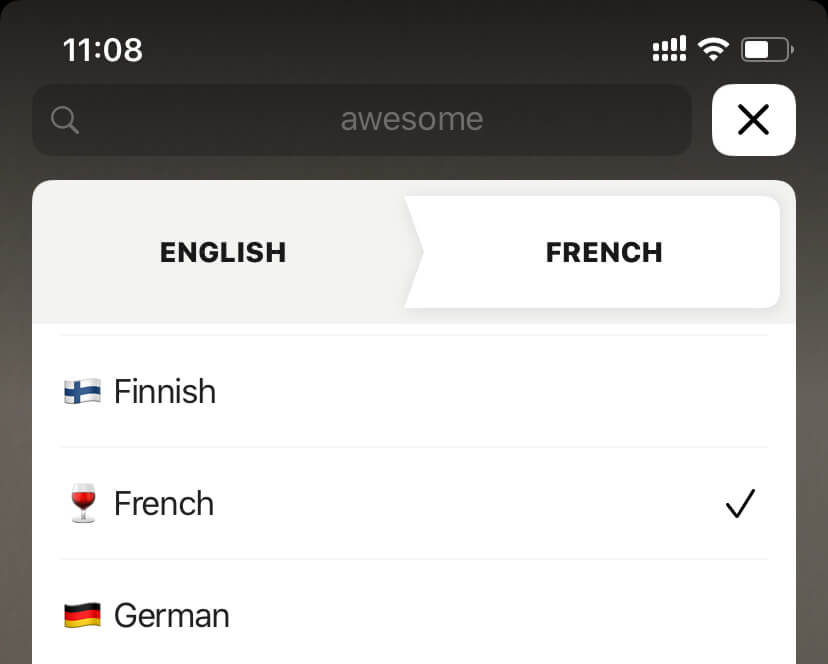 You can open the language settings screen by tapping the flag icon on the top right corner.
Once set, Graspp will automatically translate words you point out to your selected language: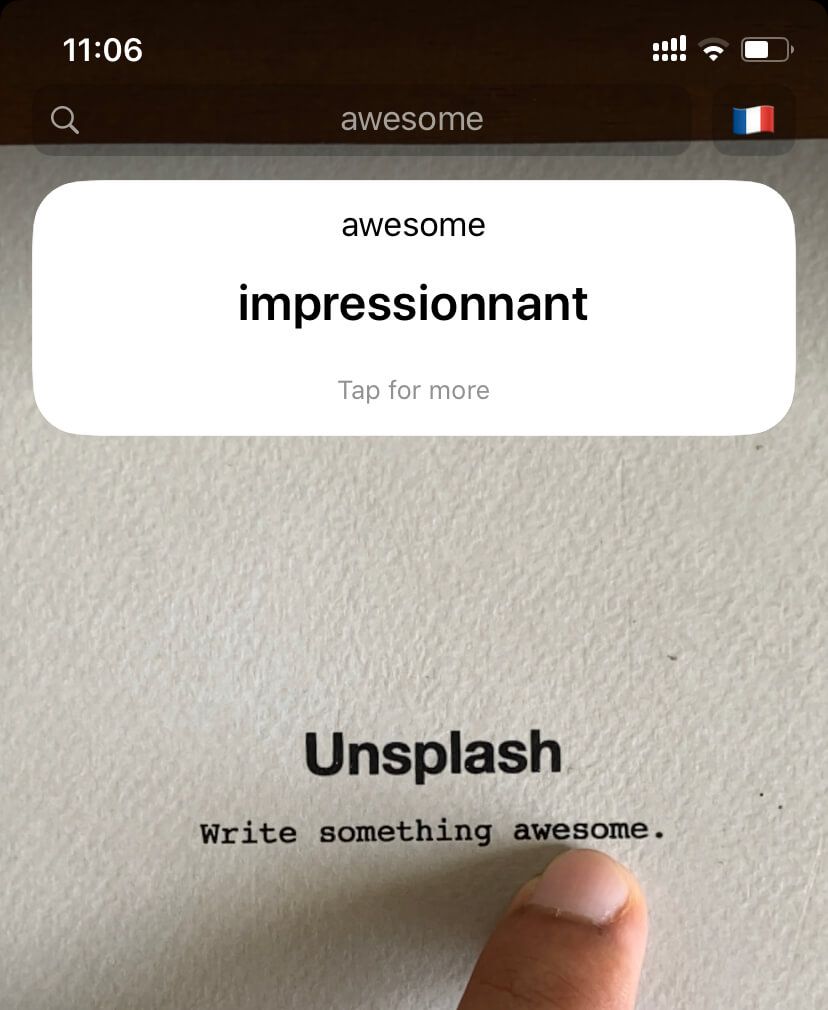 This feature is handy, as I don't need to keep two separate apps on my phone. Graspp is both — a dictionary app and a translation app.
But, hold on a minute:
What about privacy?
Turns out:
Graspp doesn't require an account to use
After installing, you can start using Graspp right away. No need to signup for an account, and feed personal data to the company behind the app.
That said:
There are some areas where you should be careful.
To provide its services, Graspp uses Google Cloud API, Yandex Dictionary API, and ABBYY Lingvo API, as mentioned on their privacy policy.
This means that although Graspp doesn't personally identify your data with you, it does share whatever you scan, with its partners.
For most use cases, like public books, or reports, using Graspp should be fine.
However, for sensitive documents, it's better that you keep this app away.
Apart from this small privacy concern, I'm not too fond of Graspp's:
Lack of iCloud sync
Graspp doesn't offer iCloud sync.
So, your search history, and favourite words will vanish as soon as you uninstall the app.
I would have preferred to have my data synced to iCloud, so that when I change devices, I can port over my app data.
For me, iCloud sync is a must-have feature, if there's no in-app syncing mechanism.
Also:
For translating sentences, you need a separate app
Graspp only works on a word-by-word basis.
This feature is excellent for looking up meanings, but for translations, full-sentence translations are what we look for most of the time.
Graspp makes that process super tedious, because you have to point word-by-word to translate a whole sentence.
So:
Should you give this app a try?
I would say, definitely.
It's a fun app, while useful too at the same time.
Since, I mostly read on my phone, Kindle, and my laptop, I don't use Graspp that much.
It's when I'm reading a paperback copy of a book, and need to search some word, Graspp comes in handy.
Anyway, it's a free app, so there's no harm in trying it out.