Ever since I moved from Things 3 to Todoist, I've been religiously using the app for over 2 years, every day.
But:
In the last few years, especially in 2023, Apple has introduced subtle upgrades to their stock to-do list app called Reminders, making it a worthy candidate.
It's present across all my devices, is free to use and performs well for everyday tasks.
So, when my Todoist premium subscription was up for renewal in August, I tried Reminders.
In this blog post, I'll talk about why I moved from the trusty Todoist app to Reminders, what's good about it and why I'll be sticking to it in the near future.
Let's start with:
Why Reminders
I have to admit. In the last 8 years of using Apple devices, I have never given Reminders a serious look.
I've always imagined this app to be a basic "reminders" app, one you would typically use to jot down a trivial time-based reminder and not for a full-fledged to-do list.
With more lucrative options such as Things 3 or Todoist and little to no marketing, the Reminders app easily gets lost in the bunch.
But, on a closer look, this seemingly basic app is more than capable of handling our day-to-day planning and tasks.
For example, it has a nice Today view for tasks for the day like this: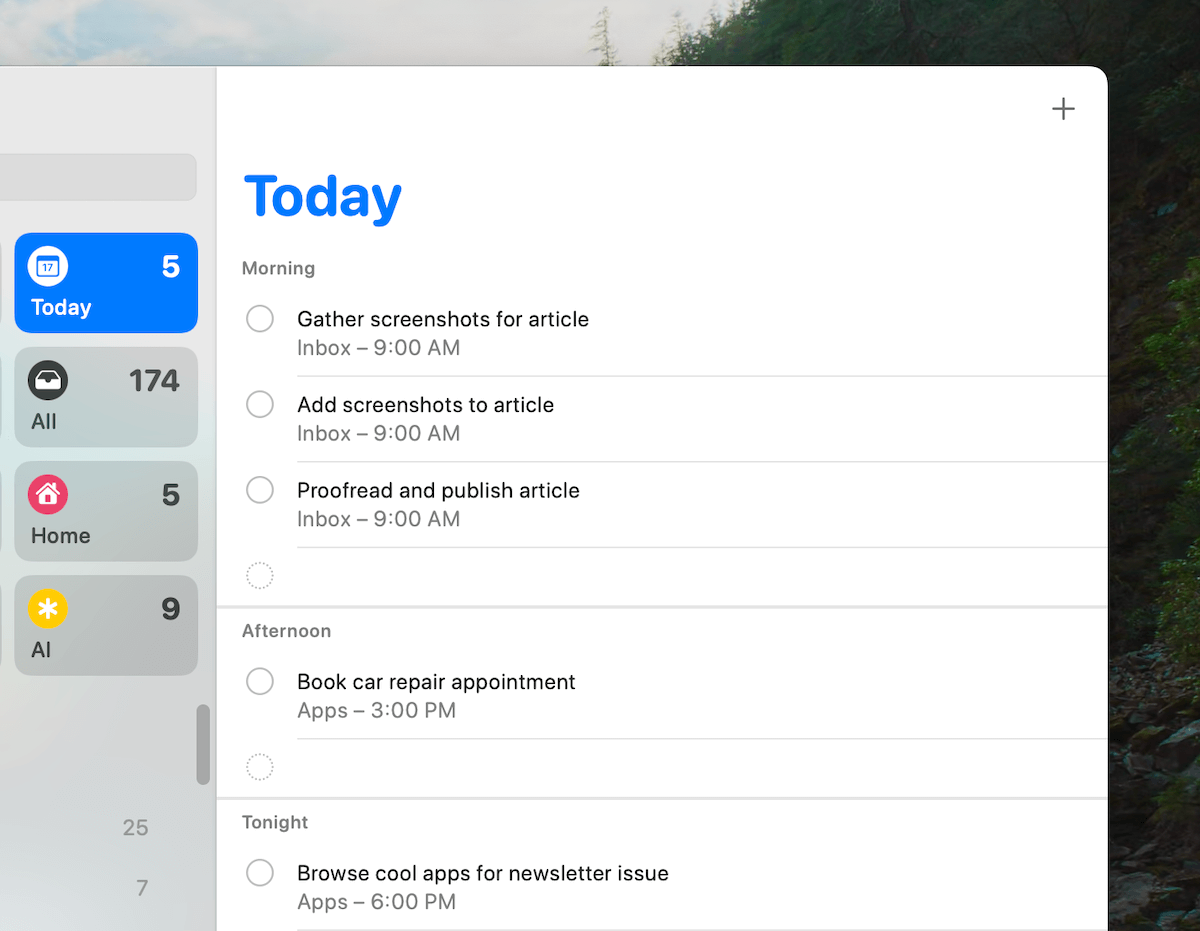 You can peek at your tasks way ahead into the future with the Scheduled view: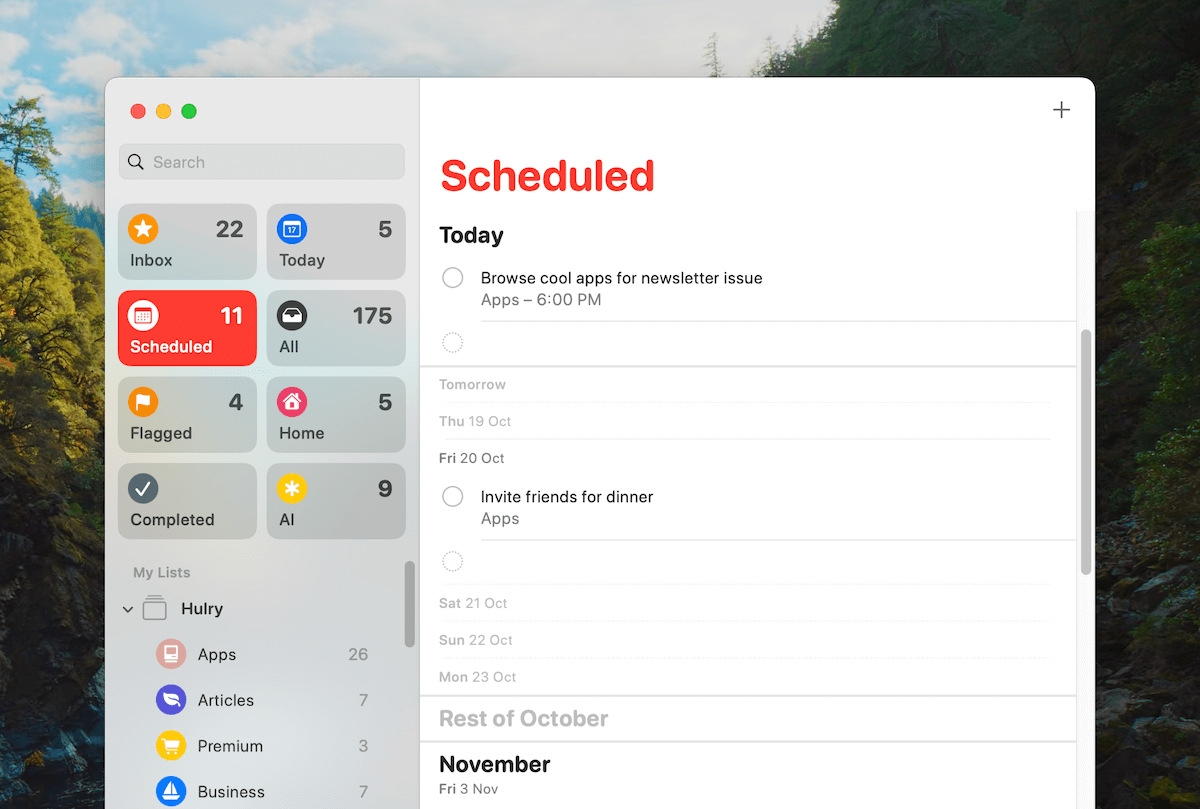 You can organise your tasks into separate lists: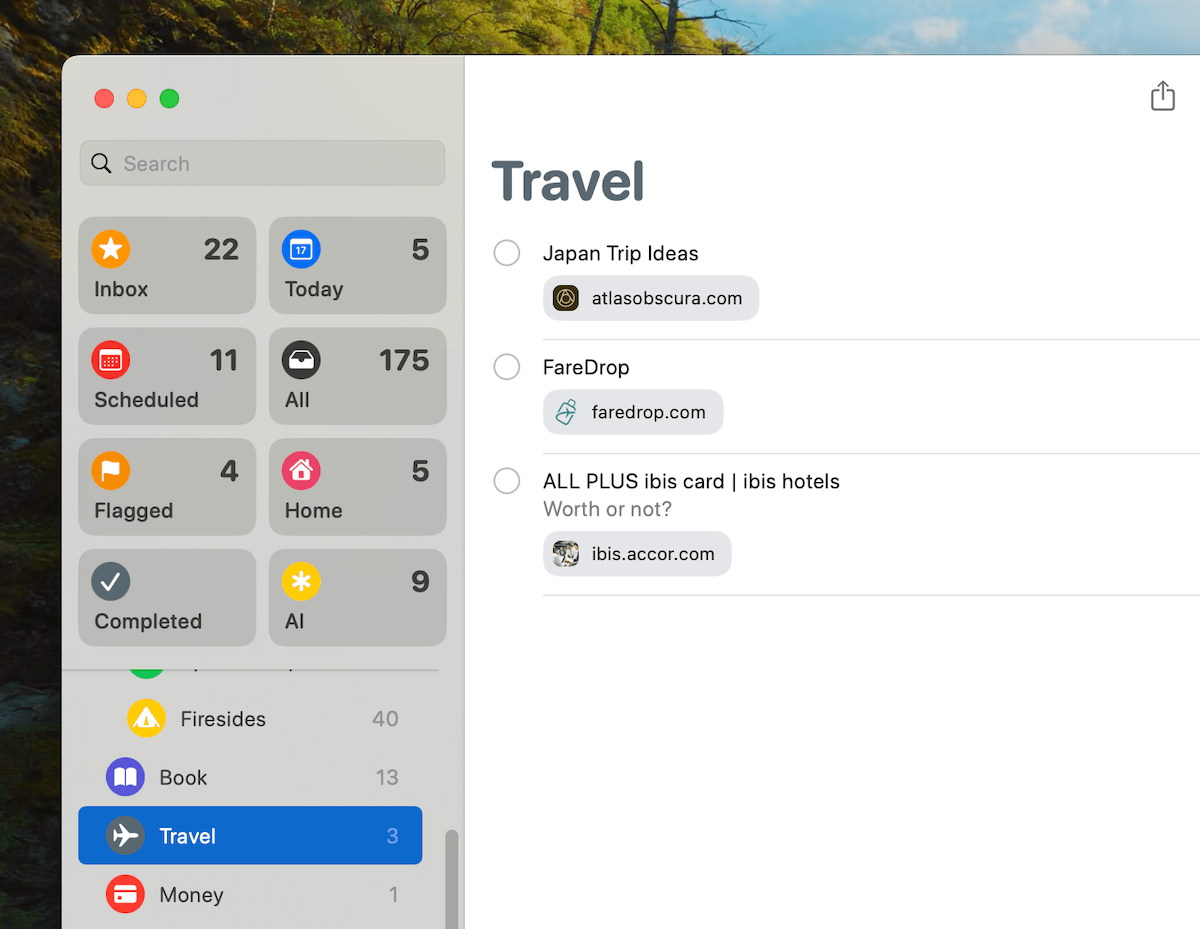 Group multiple lists into meaningful collections: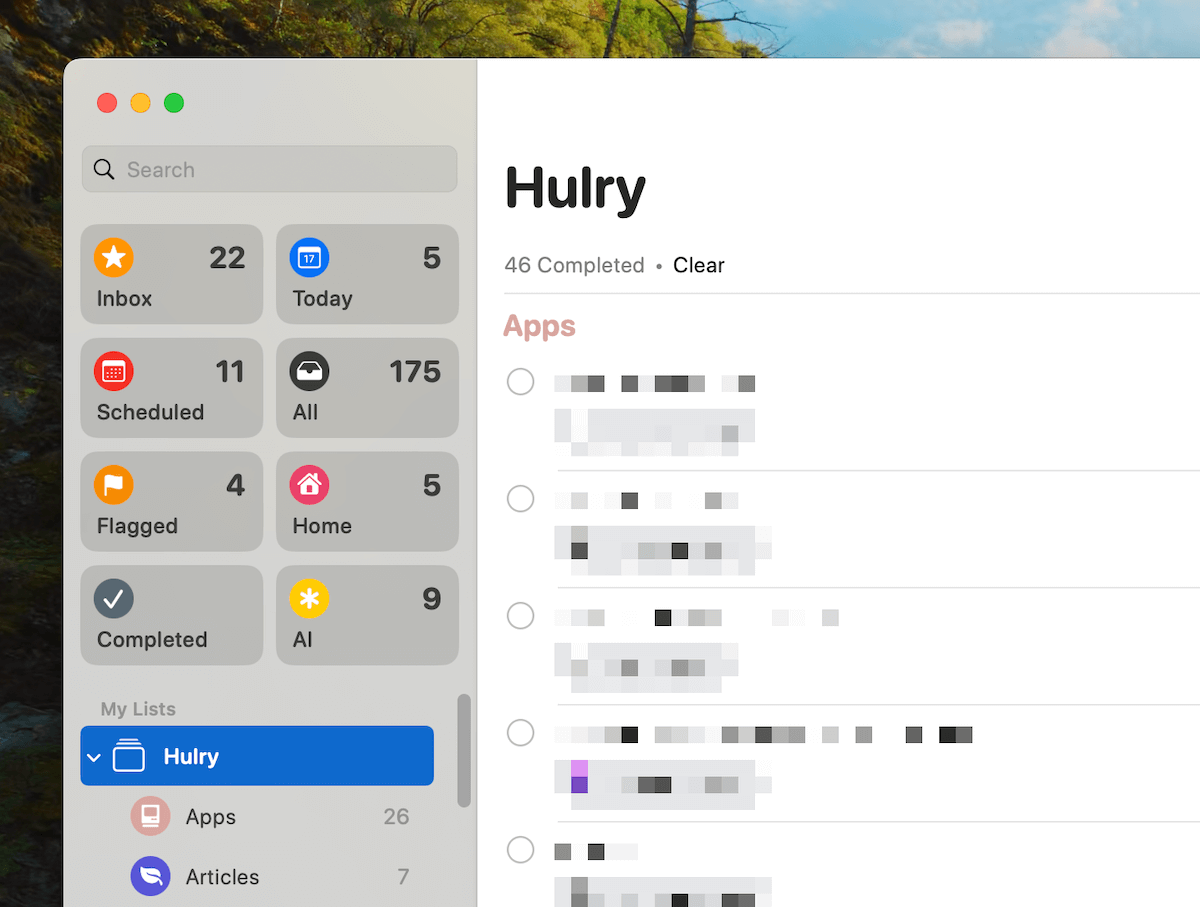 You can set one-time and recurring reminders: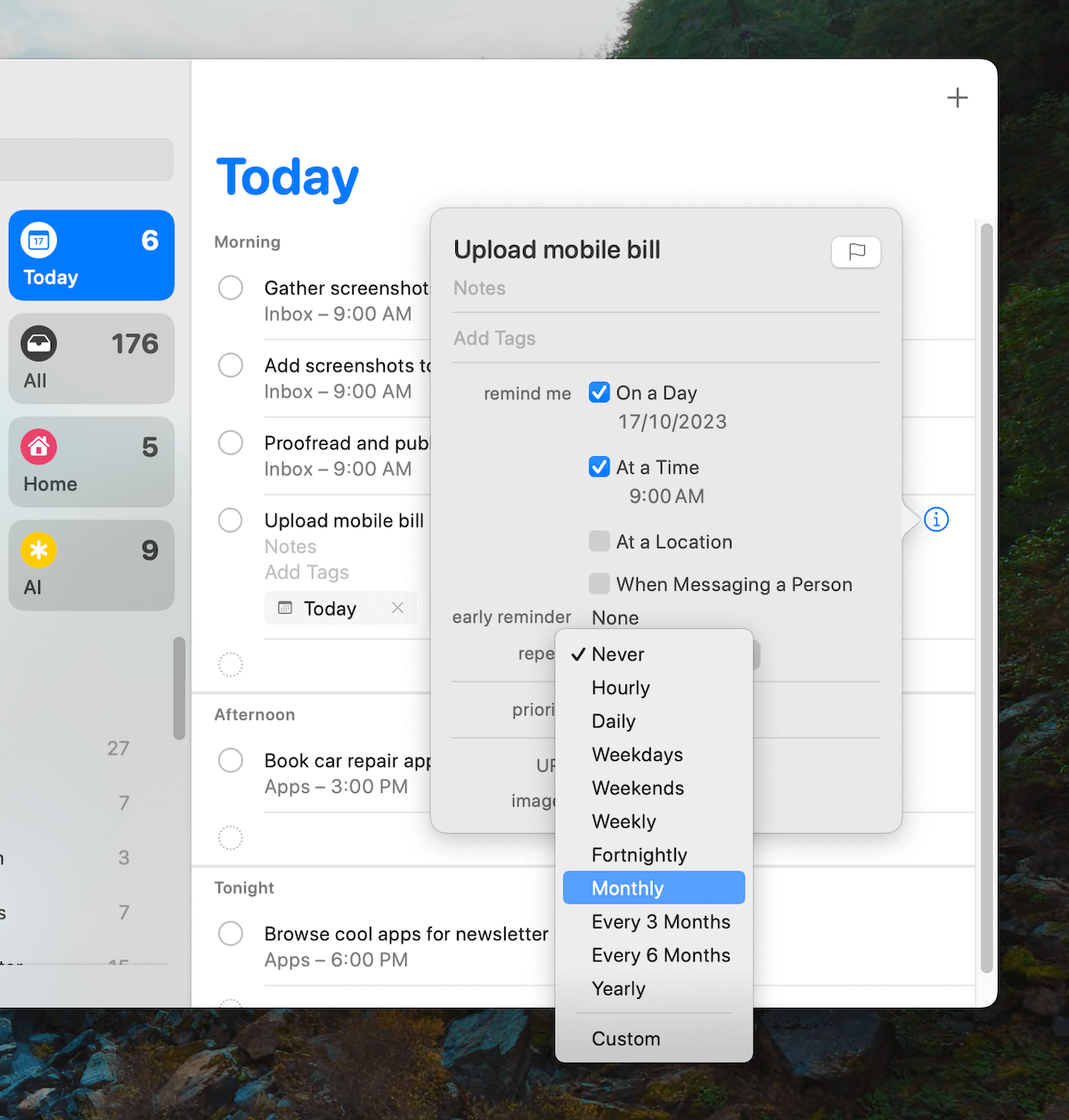 You can flag tasks for review or keep them handy for an upcoming moment, serving as a keep-aside folder: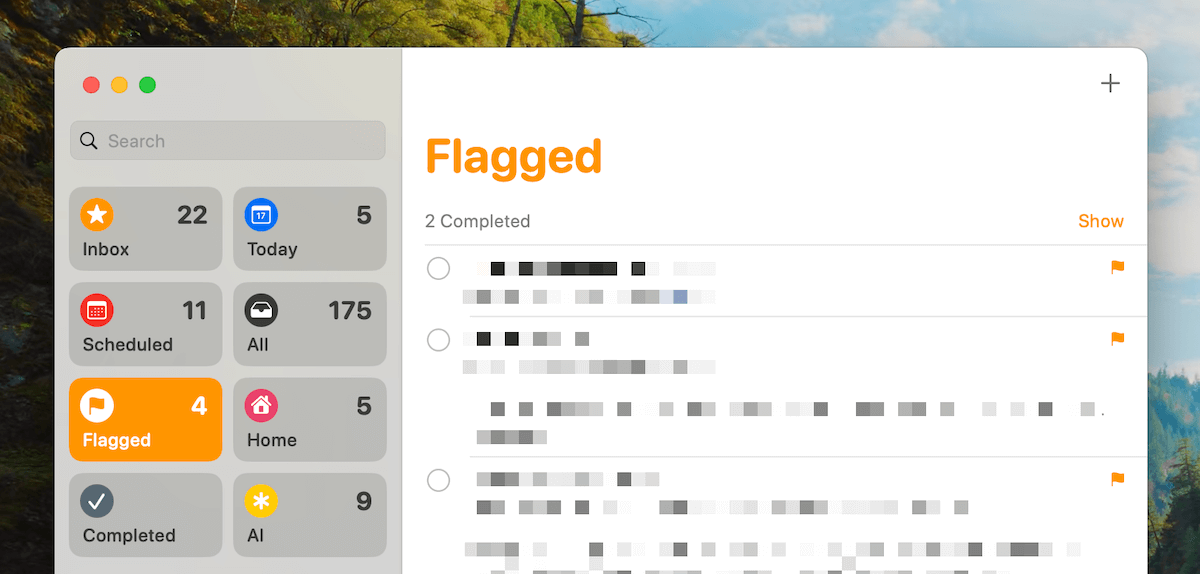 You can move around multiple tasks at once across projects: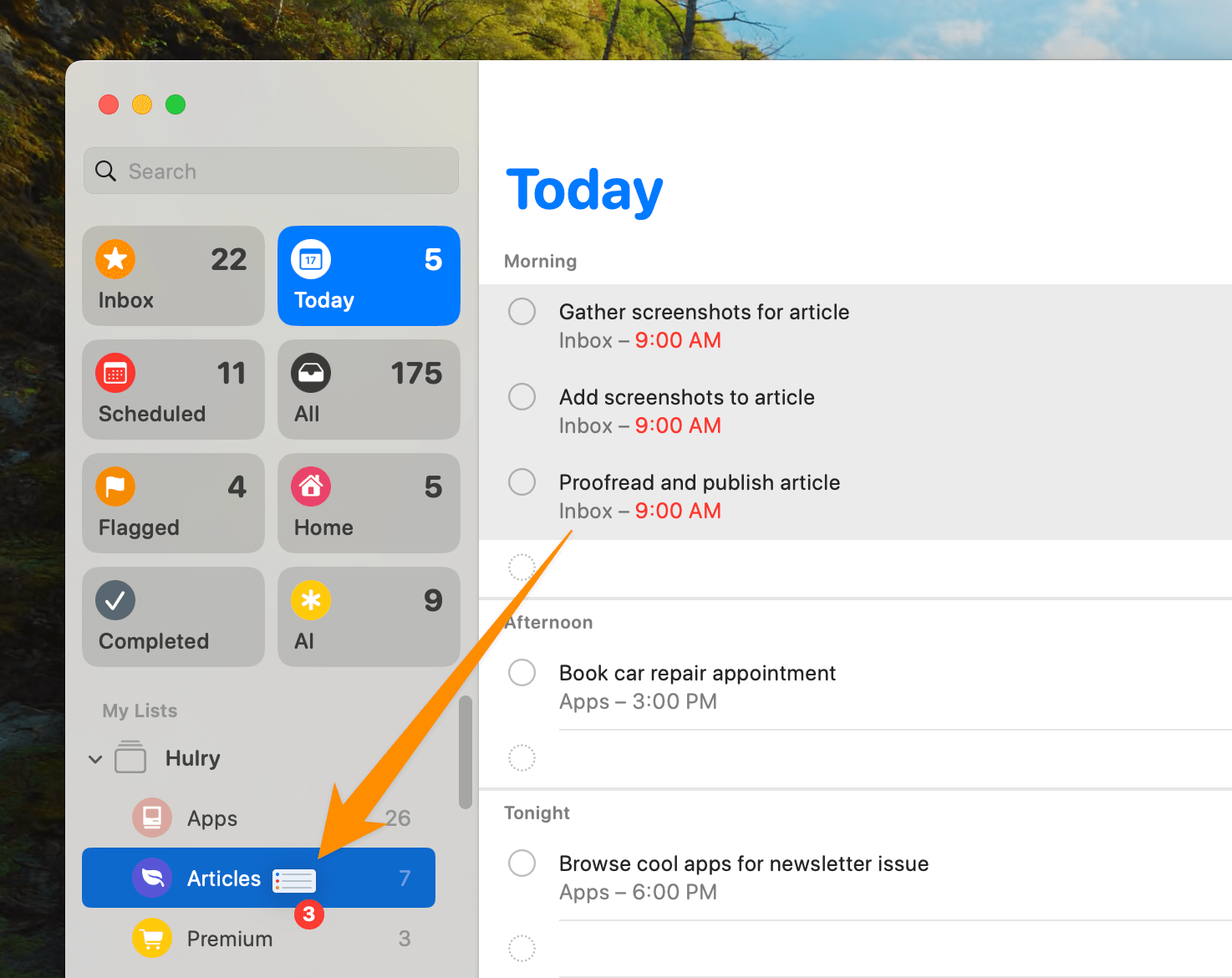 And with the latest updates, you can also have a Kanban-style board view by grouping tasks into sections and switching the list view to Columns: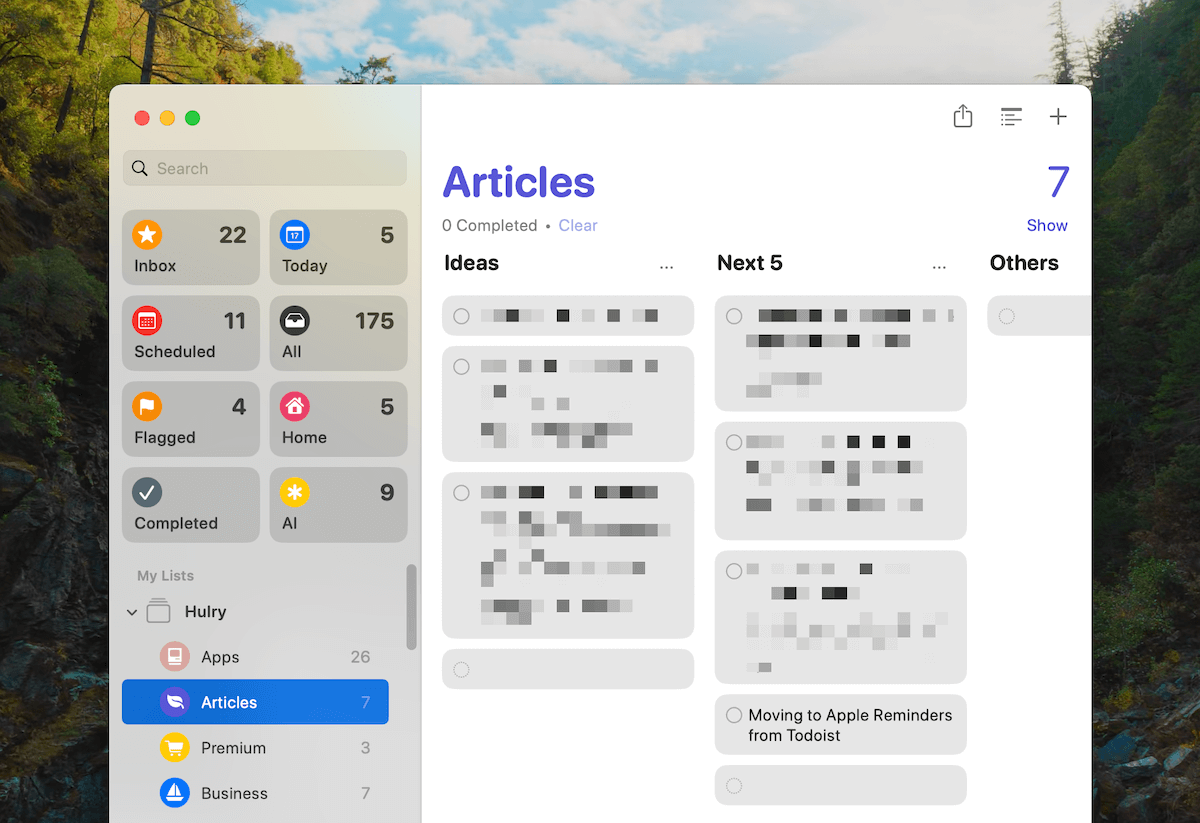 All these features cover 98% of anyone's to-do list needs, including mine.
And the best part is that I don't have to pay for an additional subscription. Reminders is on all my Apple devices and works with an active iCloud subscription.
But that's not all.
What I love most about this app is how:
Reminders is deeply integrated into the Apple ecosystem
Quick input and Siri support are the norm for to-do apps these days.
Every major app like Things and Todoist supports quickly adding tasks from anywhere in the system and integrating with voice assistants like Siri.
But, where Reminders shines for me is its deep link support.
This is how it works:
Say, I want to add a reminder for an email from the Mail app on my MacBook.
I could easily do that by selecting some relevant text from the email and adding a reminder like this:
This approach not only creates a reminder with the selected content but also adds a link to the relevant email: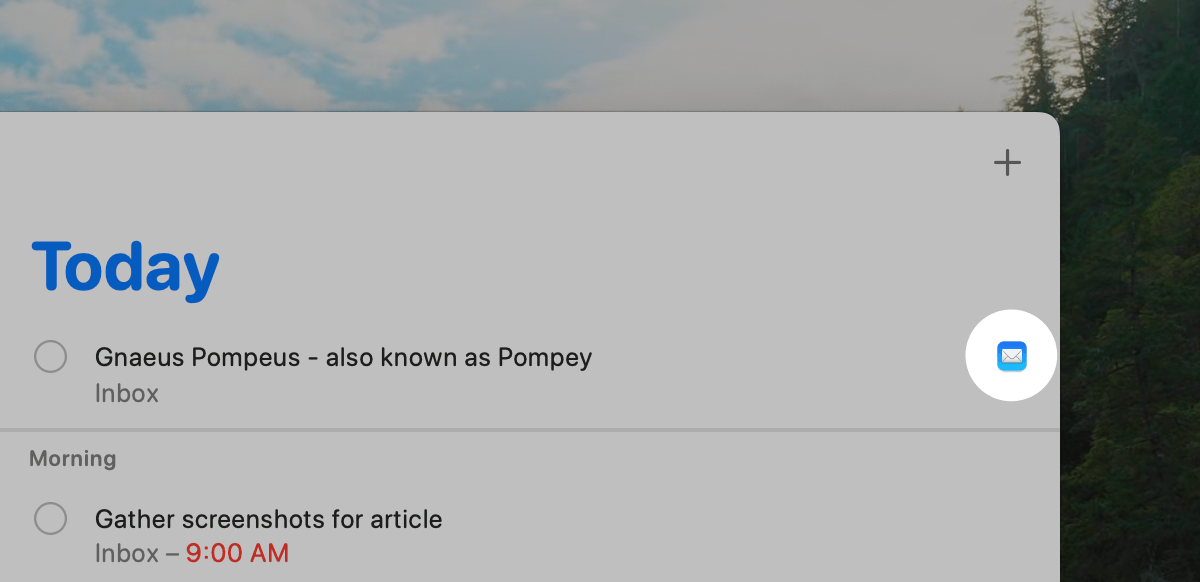 Clicking on the Mail icon on the task directly takes me to the email in the Mail app.
This is fantastic because I could quickly get context on the email and reply on the thread when the time comes.
And these integrations extend beyond the Mail app.
I use the Notes app to jot down outlines for future blog posts, which I don't usually expand into full-fledged posts immediately.
And I use my to-do list app to schedule writing the article's draft.
With Reminders, I could connect the task with the outline by creating a task from the note like this:
And, similar to the Mail app, if I tap on the Notes icon on the task, it opens up the linked outlines note.
Here's another example:
If I'm unable to pick up a call from someone and want to get back to them later, I could add a reminder for that call right from the call screen: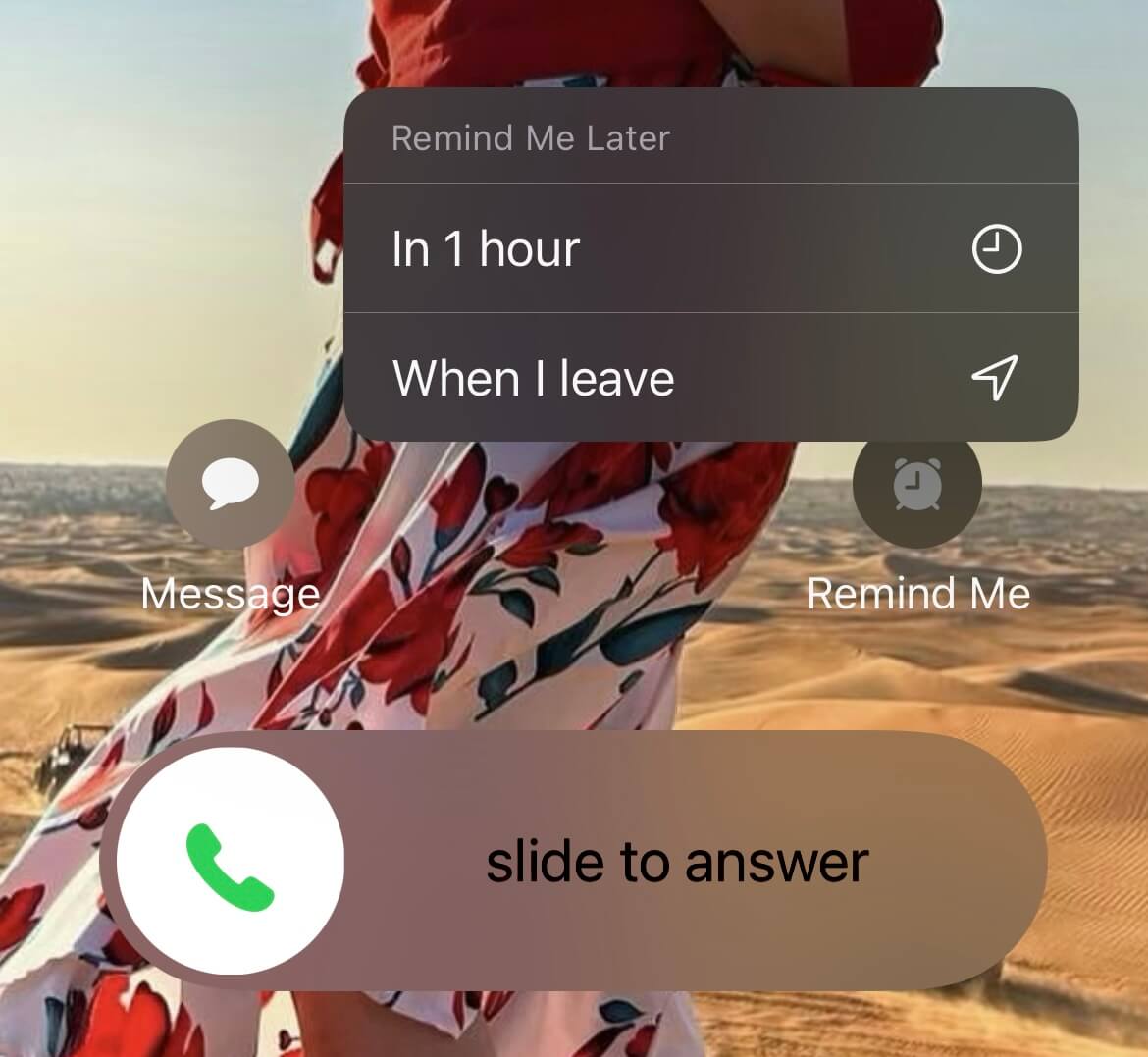 This will add a task in the Reminders app where I can tap on the phone icon to call the number back: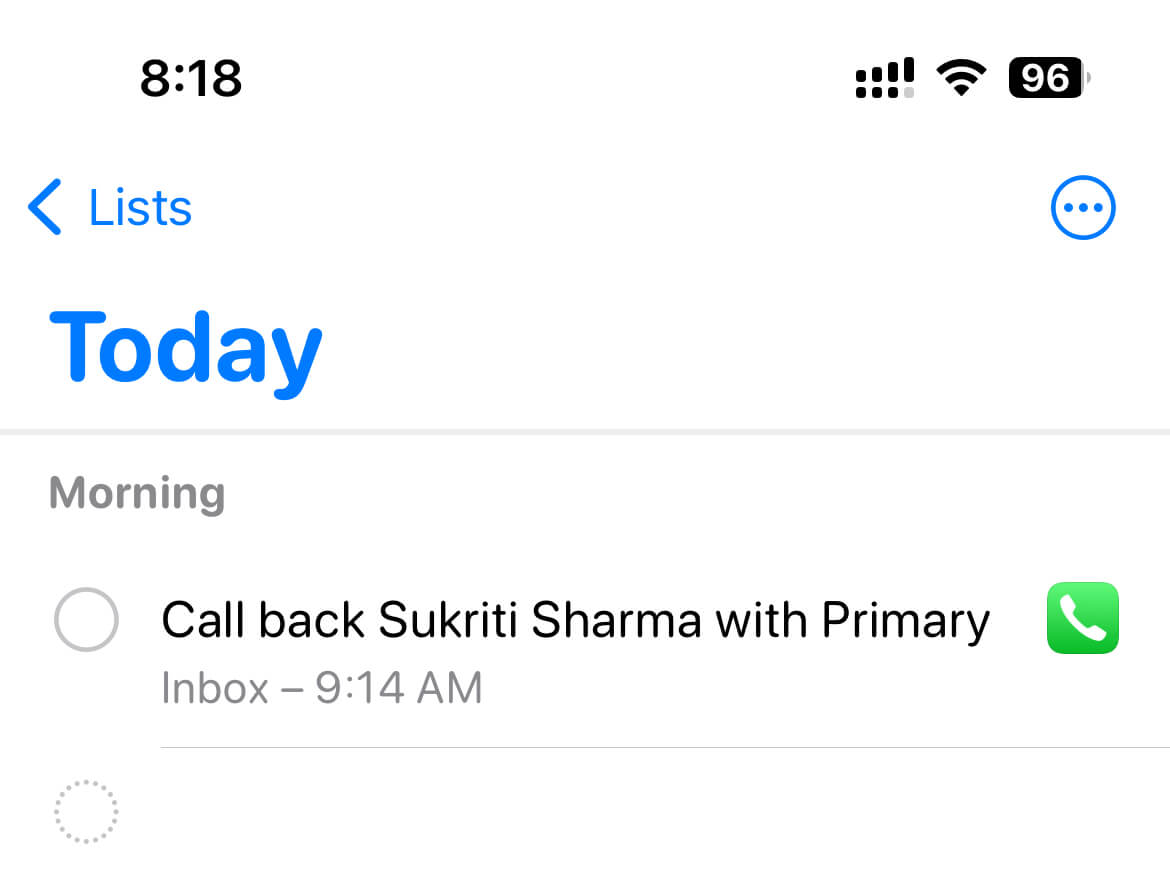 The integrations with the system go deep with this app.
Another feature of the Reminders app that I've been enjoying quite much is:
The Today view
I love how the Today view is neatly partitioned into parts of the day — morning, afternoon and tonight.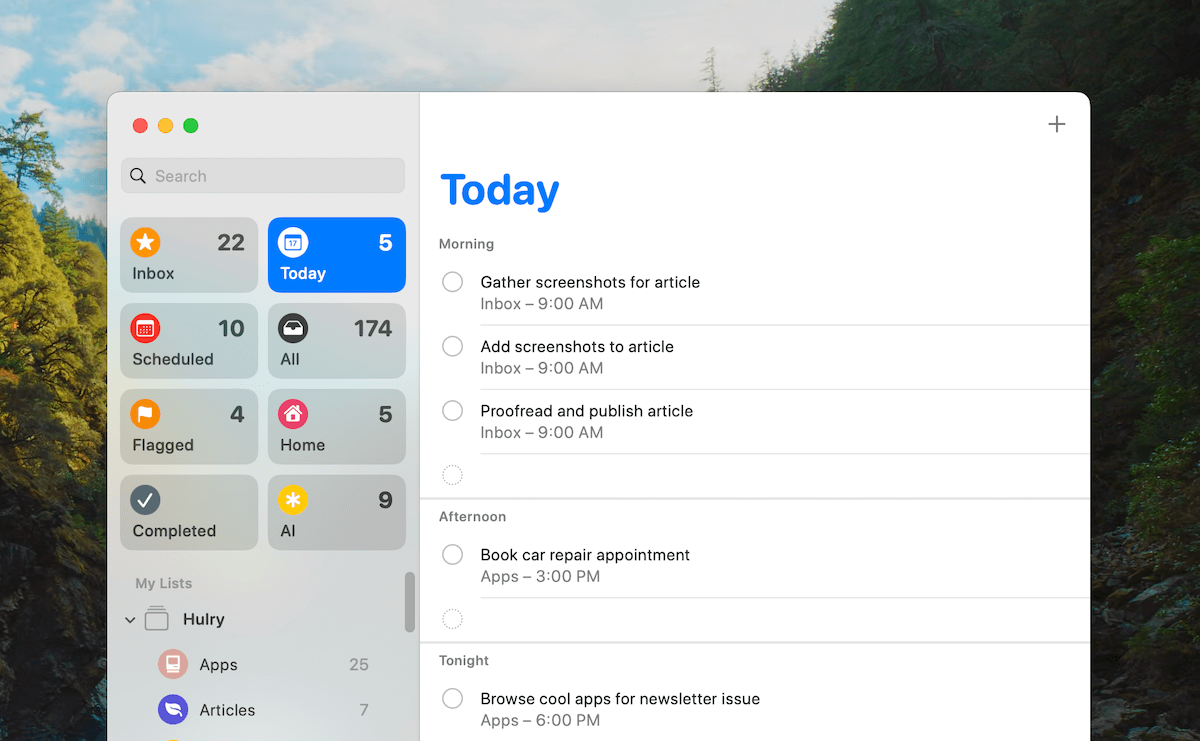 This was one of the features I missed the most when I switched from Things 3 to Todoist.
Things 3 had a similar layout where I could bifurcate tasks for the day into morning and evening time slots.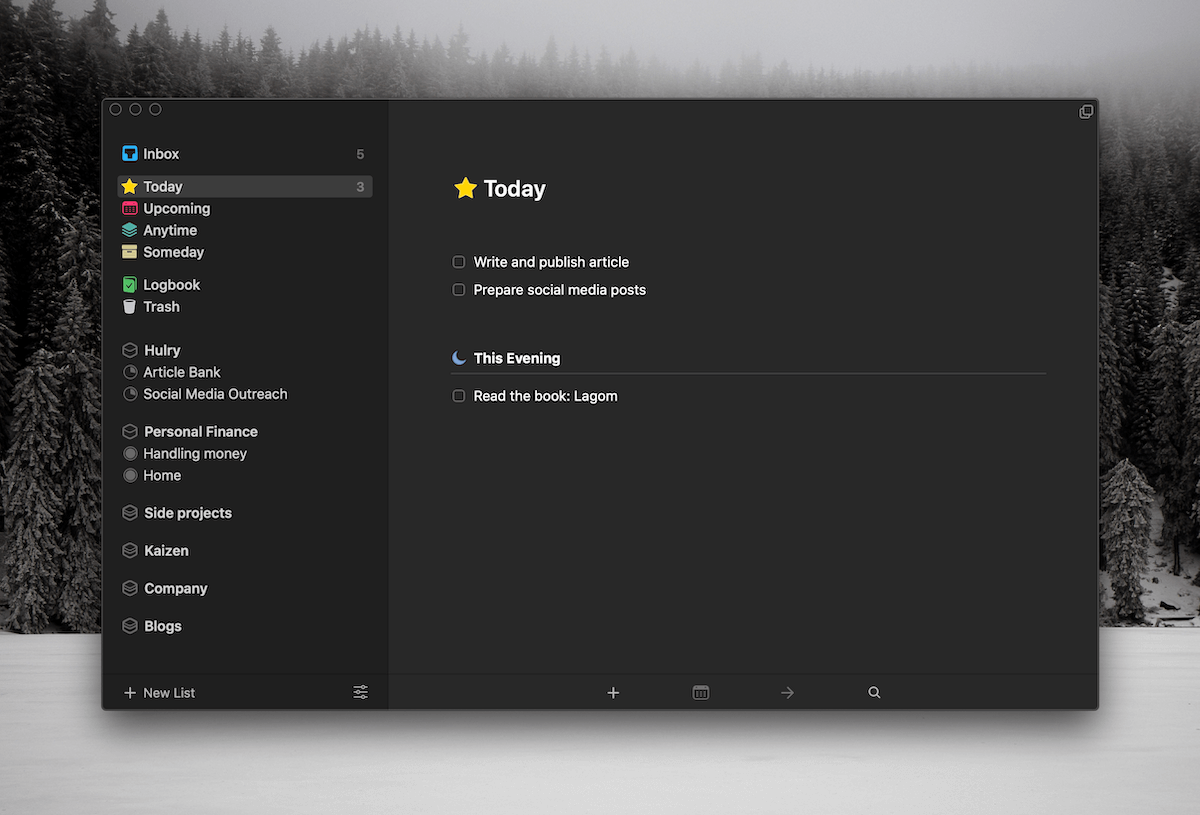 This layout is vital for me because I can plan my days in a more structured manner.
When I start work in the morning, I don't have to do a mental sorting to understand what I need to do to get my day started. Everything is neatly sorted and divided based on the time of the day, without having to attach a specific time to each task.
The best part of this view is that I can move around tasks from one part of the day to another using the drag-and-drop gestures:
Also, moving a task not only rearranges your tasks but will set a reminder according to the part of the day:
Morning: 9 am
Afternoon: 3 pm
Evening: 6 pm
What this does is send you reminder notifications when your task is due: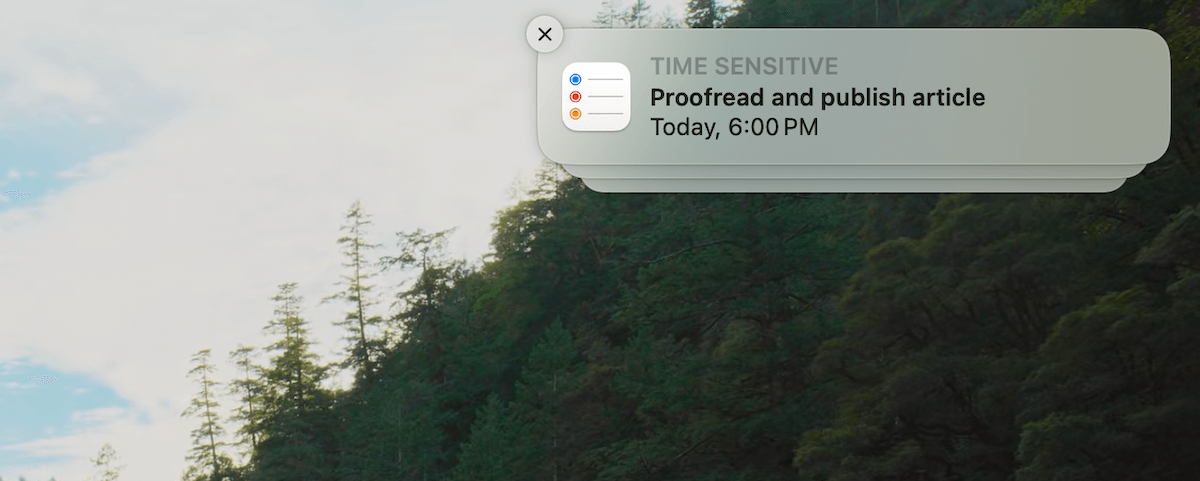 So, for example, if I split 5 of my tasks for the day into morning and evening, I'll get a notification at 9 am for the tasks I've divided into the morning slot and also get a notification at 6 pm for the tasks I've assigned to the evening slot.
It's like a mini calendar baked into your to-do list app.
And you don't need to add tasks first and rearrange them later. You can tap on a section directly to add tasks to that time slot: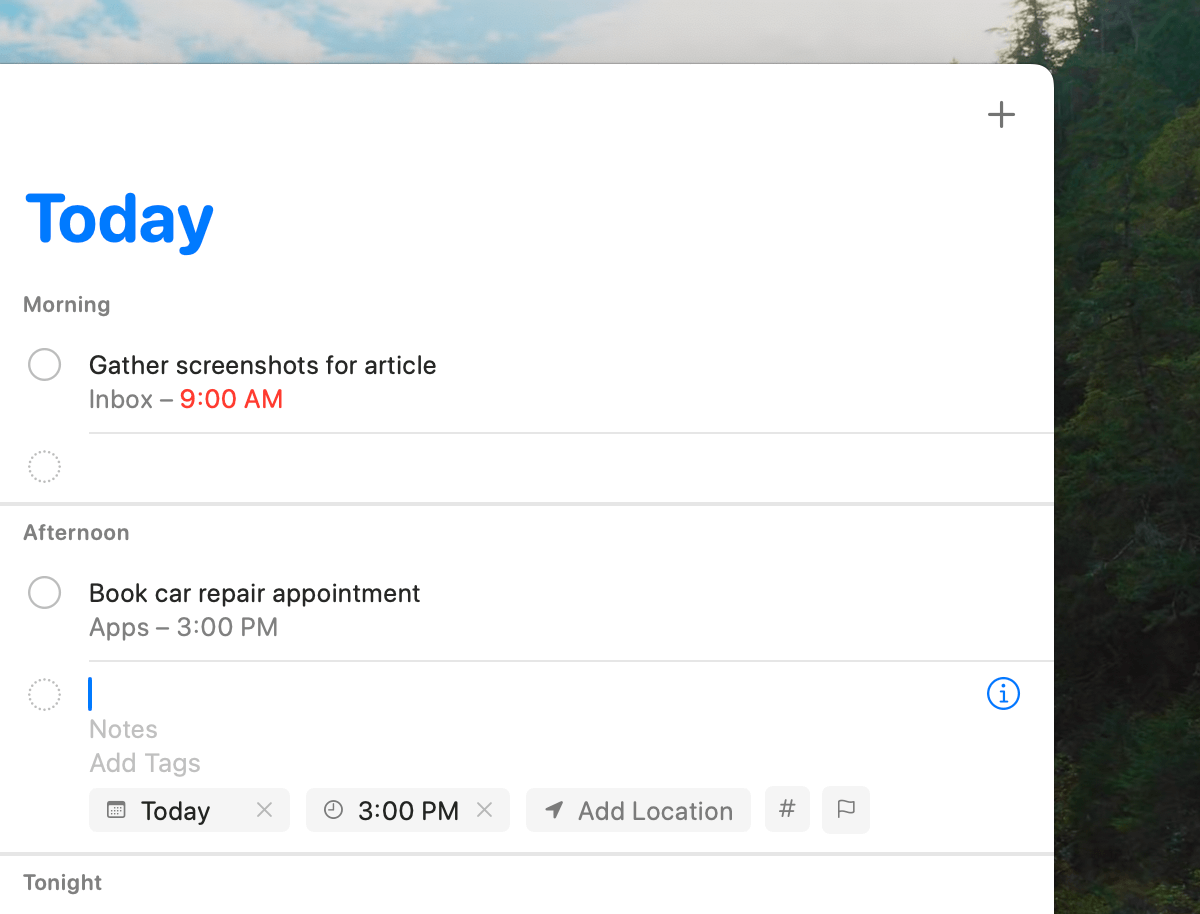 Neat.
Now, while all these are fantastic new additions I'm enjoying in my daily workflow, there are also a couple of hiccups.
The most significant one is:
The lack of a robust natural language input
The best part of Todoist is not its design or advanced scheduling features but its natural language input.
With a few words, I could add a new task and simultaneously sort it into a project, assign a priority and set reminders.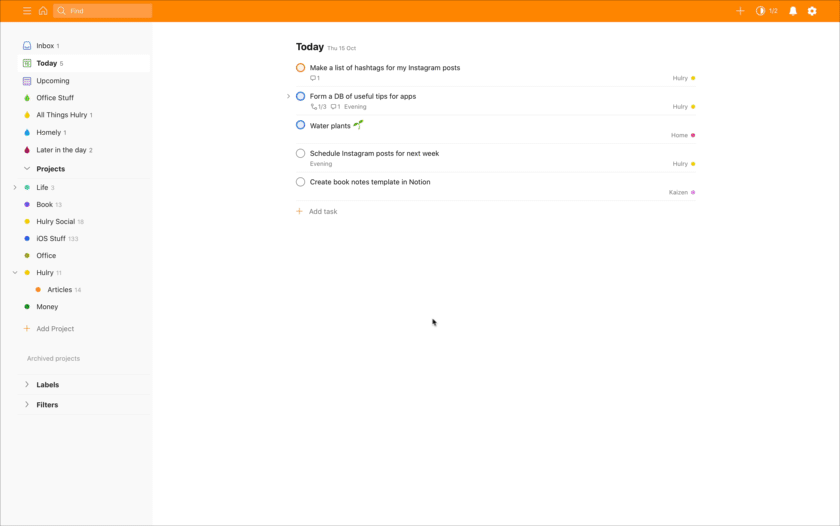 This is a hell of an experience whether you're adding tasks in bulk or need to quickly jot down a task and segregate it into specific projects.
Although the Reminders app has some level of natural language detection built into the app, it isn't as powerful and versatile as Todoist's.
For example, you could add simple time-based reminders using natural language input:

It can also handle medium-complexity date syntax:

But, not anything advanced:

And the natural language input doesn't support sorting tasks into projects or assigning priority.
This is a bummer, especially coming from Todoist after years of muscle memory of fluently typing out tasks using their superior natural language capabilities.
However, it gets the job done around 95% of the time.
I have to fall back to the graphical scheduling interface for more advanced or recurring reminders. I can live with that for now.
Okay, with all the good and the bad stuff about this migration out of the way, here's:
How I migrated my tasks from Todoist to Reminders
Whenever I move between apps, I usually start from scratch.
This means not using any migration tools to copy over contents as-is to the new app and instead migrating manually.
This approach allows me to wipe the slate clean and bring over only the currently relevant stuff to the new workspace.
And that is what I did with this migration as well.
Instead of automating the process, I manually created relevant lists on Reminders and handpicked tasks from my Todoist workspace that I still intended to work on and discarded the rest.
It took a week of on-and-off effort, but at the end of this exercise, I ported over only about 70–80% of the tasks I had in my Todoist projects.
The other 20–30% were tasks or article ideas that I once thought were valid and useful, but I don't see the same way anymore.
So, this exercise was a spring cleanup for my to-do list, and I came up with a focused to-do list aligned with what I want to work on in the next few months.
Now that we've talked about the various pros and cons of the Reminders app and my migration process, the question is:
Should you use the Reminders app?
If you're new to a to-do list or are just getting started and are using Apple devices like an iPhone and a Mac, try Reminders before choosing another app.
This app might be all you need and more for your tasks workflow.
And you don't have to pay for an extra subscription, which is the case for other apps like Todoist or TickTick.
But, if you're already settled on a to-do list app of your liking, there isn't a solid motivation to switch other than saving a couple of bucks a year.
You can revisit this decision when your to-do app subscription is up for renewal.
It could be a better time to look at a potential switch then.