Last week, I talked about cancelling my ExpressVPN subscription during one of my recent audits.
In this post, I'll highlight some of the disadvantages of using a VPN service that I've noticed and what led to cancelling ExpressVPN after using it for close to a year.
Let's start with:
A little backstory
I've never been too serious about using a VPN for browsing the web until about two years ago.
I only used VPN when I wanted to switch countries to access some website or app, or maybe have access to a software update earlier.
But, in 2019:
I started working out of a coworking space and wanted to prevent my coworking space administrators from snooping into my data.
The best way to do that would be to use a VPN. So, I started looking for one.
Now:
Since I didn't religiously use a VPN until that point, I didn't want to invest a ton of money on a service that I might ditch after a few days or weeks.
So:
To dip my feet into the waters, I got access to the cheapest VPN service I could find at that time — TunnerBear.
A yearly subscription cost me less than ₹1000 (~$13) at that time, and I could use the service on both my phone and my laptop.
At first, the experience was decent. I got browsable speeds and a moderately stable connection.
But, I was not happy.
Sometimes, the speed would be abysmal, especially while on 4G and travelling.
I would face frequent disconnects.
This issue led to a habit of disconnecting my VPN while making a payment in fear that my transaction would fail if the connection falters.
So:
After a few months of mixed experiences, I stopped using TunnelBear.
But then, last year, I found myself wanting to try VPNs again.
This time, I wanted to explore more into the depths of choosing a good service and willing to pay more for quality.
Falling into the Udemy style year-long "limited period" offer:
I bought a NordVPN 3-year plan
After researching quite a bit on how to choose a good VPN, I focused on these critical points to zero in on NordVPN:
Service location. This is a significant factor in choosing a VPN if you're focused on the privacy aspects. A VPN service based out of the US, Canada, Australia or in general, the five-eyes can easily hand out your data to the government when asked. TunnelBear is based out of Canada. A good service would be based out of privacy-friendly countries like Panama or the British Virgin Islands.
Availability of VPN locations. The more, the merrier. TunnelBear had limited countries to choose from while choosing a VPN server. NordVPN had loads of options.
Data logging. A good VPN service never logs your activity. With a no-logs policy, the VPN service wouldn't have any data to hand out to any authority. Also, the VPN provider can't snoop on your usage either.
Connection stability and speed. Although you can read reviews on influential blogs, this is something you'd have to try first-hand. Your mileage may vary.
NordVPN, being based out of Panama, topped with glowing reviews over the web, seemed like the perfect candidate for my experimentation.
Also:
With their 30-day money-back guarantee, I had a month to test their service and get a refund if I was not satisfied.
And I was not satisfied.
Although the speed and the connection stability was better than TunnelBear, it was still intermittently slow and unreliable.
Especially on 4G, my internet connection would walk like a sloth and drop out frequently.
To seek help, I reached out to NordVPN over Twitter on these issues:
These problems made using a VPN way too challenging.
Apart from the tweet:
I tried connecting with their support team, who advised me to switch between different VPN protocols like UDP, TCP and IKEv2.
But, none of those worked out for extended periods. Those were quick and temporary fixes.
When one protocol goes haywire, choose another one and use it while it behaves well.
Now:
These VPN apps usually have an option to choose the VPN profile automatically.
However, even that fails to work sometimes. I had to switch to a different profile manually to get the connection working.
Also:
With the automatic option, the VPN app will keep on switching profiles and drain your phone or laptop's battery massively in case of frequent disconnects.
This was not what I signed up for.
I connected with a NordVPN support executive one last time and cancelled my account with a full refund.
Then:
I did what many people would do. Throw more money at the problem.
Convinced that maybe NordVPN, with their cheap 3-year plan, isn't able to maintain their service well:
I bought a year-long subscription to ExpressVPN
Now, before I throw dirt on this service as well, here are some of the good points:
ExpressVPN is the best VPN service I've used till now.
With ExpressVPN, I've had fewer connection issues and usually incredible speeds.
But then:
The downfall started.
After a honeymoon period of good speed and reliable connection, I started facing significant problems.
I would have a slow connection and frequent disconnects, especially on my phone.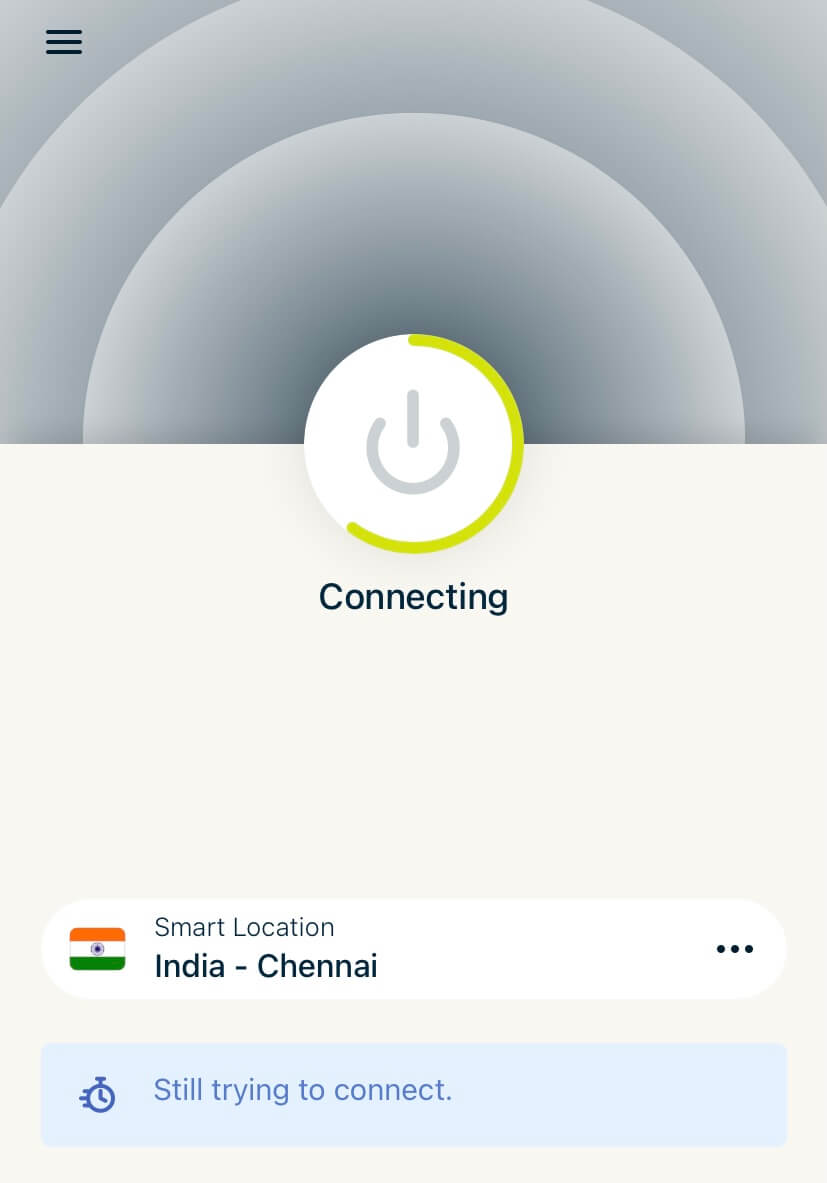 It even got to the point that the ExpressVPN connection became so unreliable that the app had to continuously switch between VPN profiles and drain my phone's battery in half a day.
Here's a tweet on this subject:
To remedy the battery problem and fix the connection issues, I started switching profiles manually. I tried them all, even their new protocol, Lightway.
While sometimes I would get an undisturbed connection, most times, it would be super annoying to browse the web with my VPN app active: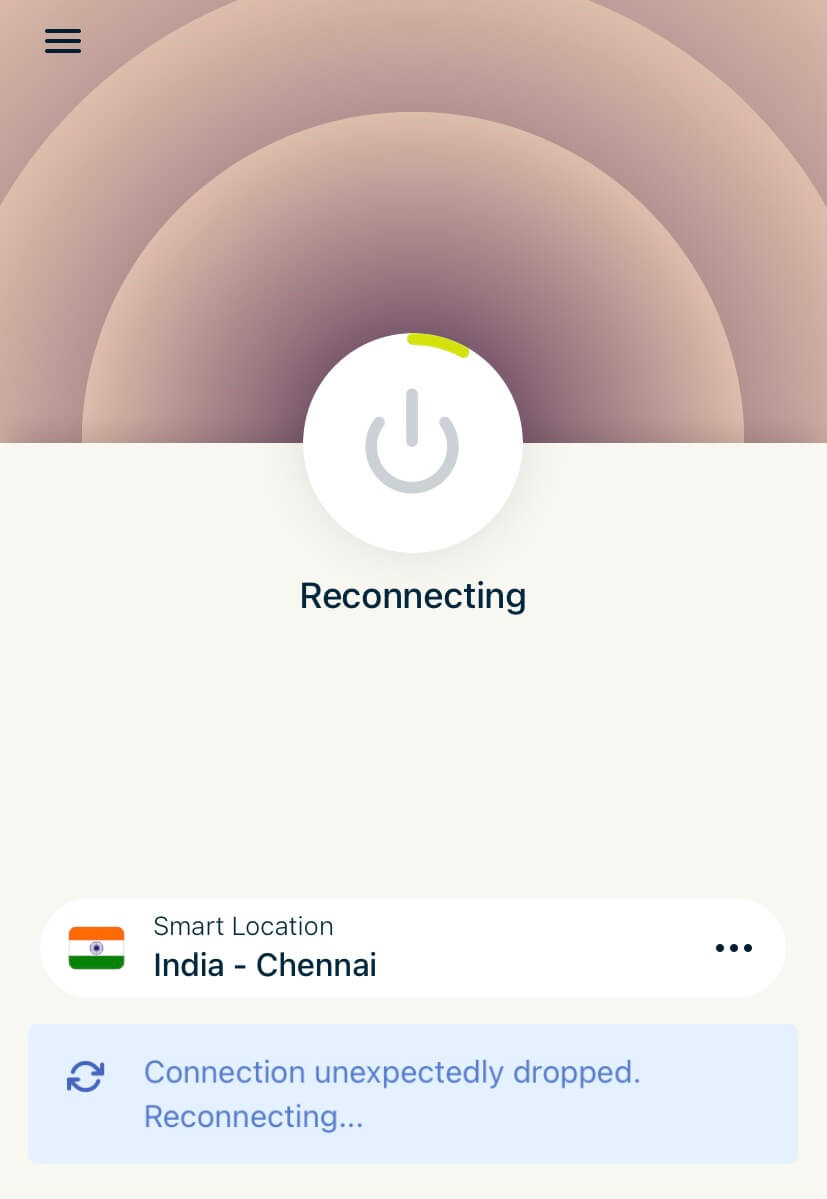 Now, here's another thing:
With any VPN service, we should expect some loss in speed compared to without using a VPN.
But, without ExpressVPN, I get a speed of around 200 Mbps on my home connection, and with VPN, it comes down to less than 40 Mbps.
Although 40Mbps is still a decent speed to browse the web, downloads and uploads are pretty slow.
At one point, I would disconnect my VPN before downloading something and then turn it back on after the download was complete.
Not ideal, but at least I got good download speeds.
And on my phone, the connection speed would drop further to 10 Mbps because my 4G bandwidth was around 45 Mbps.
It's not a good speed to stream videos on the go.
Now:
Since I've had a better experience with ExpressVPN than NordVPN and TunnelBear, I tried to invest some time debugging this issue.
I got on an hour-long chat to debug the speed problem with an ExpressVPN executive, sending them connection logs from the app in different conditions.
After some debugging, we figured that the VPN server closest to me, Chennai, had speed issues. Even the Mumbai server, for that matter.
ExpressVPN had one more server based out of India but the connection is routed through the UK. On the executive's recommendation, I gave this server a shot, and my connection speed shot through the roof.
But, here's the kicker:
I didn't use that connection before because it has a high latency.
However:
Upon establishing a connection to a website, data flowed in quicker than the other servers. I got speed test results of around 150 Mbps on that server.
More than acceptable.
But good things come at a cost. While download speeds improved, my browsing suffered.
Every website I opened would take a long time to open because connecting to the UK server would take time.
And that was my "I'm done with this" moment.
I stopped connecting to the internet using a VPN.
The only time I would connect was giving the service another chance or switching to a different country to access some website.
That was until last week when I cancelled my subscription altogether.
I couldn't use my VPN when I needed it the most; travelling or even at home. So, there's no point in spending over $100/year on a service I would use sparingly.
That said, here's:
Another problem I faced using VPNs
Location issues.
I would connect to Chennai, India, but Google and YouTube would detect my location as UAE.
I was shocked to see Google search results in Arabic while being connected to an Indian VPN server.
Also:
YouTube has some feature limitations, like no 4K quality streaming in the UAE.
And that would apply to me as well. I didn't have the option of 4K streaming while being connected to the Chennai server.
On top of that, my timeline would be filled with UAE regional content suggestions.
And, this problem is weirdly common across VPNs:
The only fix I found for this was to change my YouTube region to India manually.
Now:
Coming back to the connection issues, here's:
What I think is the problem with most VPN providers
Unhandled explosive growth.
Most VPN providers offer a fantastic service when they're relatively new and not used by many people.
But then:
Once they start onboarding new users and spend marketing dollars on growing 10x, that is when they start dropping the ball.
I've noticed this with both NordVPN and ExpressVPN.
When I signed up for NordVPN, it was already a lost cause.
With so many YouTubers and blogs serving as an affiliate for NordVPN, their service was already degraded.
But with ExpressVPN, the initial days were a fantastic experience.
I was happy to finally find a VPN that works great and doesn't make my internet crawl like a slug.
And then, ExpressVPN went the Nord path.
With influencers like MKBHD promoting ExpressVPN on his videos, ExpressVPN steadily lost their stellar service and probably some customers like me.
Here's MKBHD with a full-on promotion for ExpressVPN: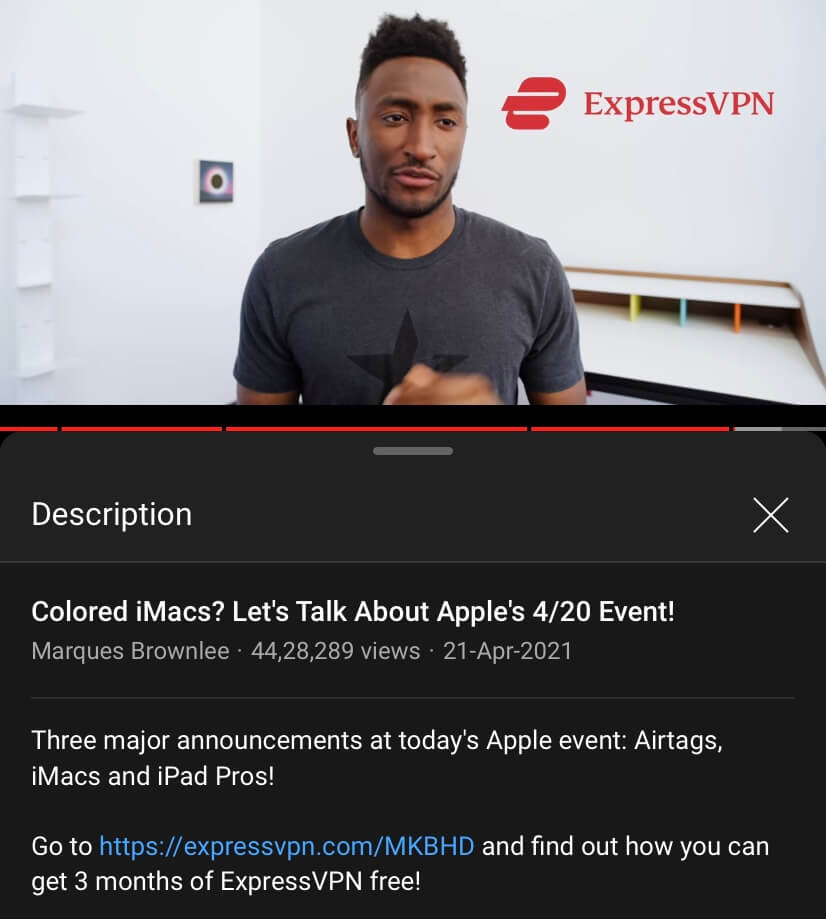 Now:
Every company wants and needs to grow. That's expected. But, not every company can handle rapid expansion.
And most of these VPN providers fall prey to unexpected growth, and their services suffer due to overloaded servers.
So:
What's the path forward?
Thankfully, VPNs are services that don't hold our data hostage.
We can easily swap out a VPN provider with another and not lose a minute of peace.
Therefore:
One of the strategies to constantly get good VPN performance would be to look out for small and emerging new providers.
Usually, these companies will have an excellent infrastructure ready with not many users hogging their servers.
Choose such a provider and opt for the shortest affordable plan they offer.
Generally, yearly plans are suitable for this purpose.
Once the VPN provider starts to create problems, switch to a new provider at the end of your term.
For me:
Right now, I'm not spending another dollar on any of these VPN services unless I need a VPN for my work.
Even then, I would like to experiment with setting up my personal VPN service using OpenVPN and DigitalOcean and see how that goes.
Of course, I'll not have fancy apps to connect and switch locations, but both iOS and macOS offers an easy way to connect to a VPN service.
But one exercise before that would be to understand the logging policies of these server providers like DigitalOcean.
Because if they keep logging my data on their servers, then the VPN wouldn't be that private.
If I do end up setting up my VPN server, I'll write about the experience here on Hulry.